Pawtographs is a fiscally sponsored program of United Charitable (a 501(c)(3) public charity), championing animal advocacy and creating awareness for animal rescue and welfare efforts for over 100 programs nationwide in its more than ten years of existence.
Our Mission:
To be a defender to animals; and to promote the education and adoption of animals into loving, safe homes while reinforcing the urgent need to manage the overpopulation through spaying and neutering.
Our Vision:
To make euthanasia as obsolete as discrimination against breed, age or exterior appearances so that every animal has a loving and safe home.
Our Motto:
Love is love, whether for a person or an animal.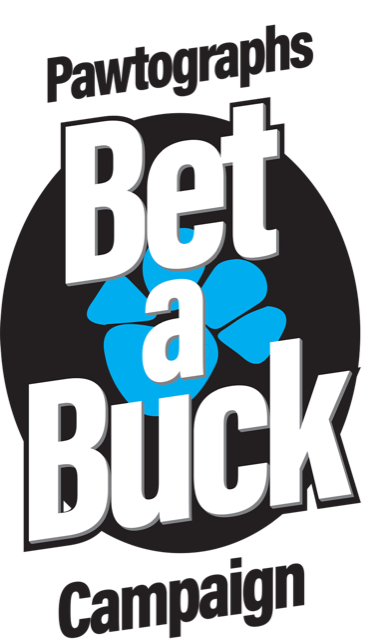 PURCHASE
your Pawtographs Bet-A-Buck Campaign T-shirt
HERE
and one dollar for every t-shirt is donated to Pawtographs or a fellow animal welfare agency. The Campaign's purpose is to help you take a stand in opening the minds of all who see it to "loving" the animals. When you show love to an animal, there is a life-changing return.
Donate via Credit Card or eCheck
Pawtographs FAQ
Is my donation tax deductible?
Yes, we are a fiscally sponsored project of United Charitable , which is a public 501c3 organization recognized by the IRS. Your donation is tax-deductible to the fullest extent permissible by law.
WeDidIt FAQ
Is my donation and credit card info secure?
Yes, the security and confidentiality of your information is our highest priority. We will not sell, trade or share your personal information with anyone else, nor send donor mailings on behalf of other organizations, and we will only share personal information if you have given us specific permission to do so.
How do I know that my donation was made successfully?
You will receive an emailed receipt immediately after your donation is submitted and your credit card is processed. Your donation will also show up on your bank or card statement within 1-3 business days.
Do I get a receipt?
Yes, a receipt is sent to your email inbox once your donation is processed. Please be sure to keep a copy of your receipt for tax purposes. If you select a recurring donation, you will be sent an individual receipt each period when your donation is processed.
Is my donation private?
We will not share or sell a donor's personal information with anyone else, nor send donor mailings on behalf of other organizations.